Seasoned Firewood for Sale
At Rock Stone and Sand Yard (RSSY) we provide builders, landscape contractors and homeowners throughout Fairfax, Springfield, Falls Church, Arlington, McLean, Burke, Alexandria, Lorton, Clifton, Woodbridge and all of Northern Virginia seasoned firewood for your indoor and outdoor fireplaces and fire pits. Call us today for details and pricing.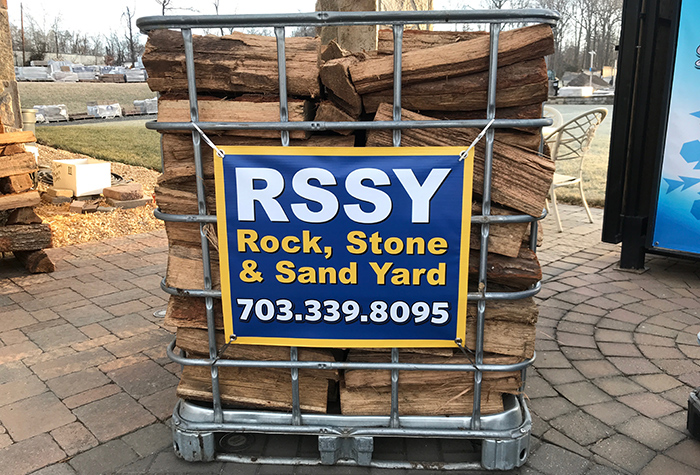 Firewood Cord Sizes
You can purchase RSSY Seasoned Firewood by the Cord or Half Cord, Pallet Homeowner Stacks, or by the Piece. Cord sizes are regulated by law and RSSY complies with industry standards. A full cord of firewood is 128 cubic feet of wood. It is a stack of split wood 8 feet long by 4 feet deep, by 4 feet high. Following are approximate cord and half cord dimensions:
Full cord – 8′ x 4' x 4' = 128 cu ft

Half cord – 4' x 4' x 4' = 64 cu ft
Firewood is a great way to heat your home or create that special romantic evening for your loved one. All of our firewood is seasoned, split, and ready to burn. Log lengths range from approximately 16 to 18 inches in length and are between 2 and 5 inches in diameter. Be sure to order your firewood early because when the cold weather arrives, we sell out quickly and seasoned wood becomes hard to find.
Delivery Available!
RSSY Firewood can be purchased in these quantities. Delivery is available today!
1 Basket – $115
1 Cord (Approx 3 Baskets) – $300
Homeowner Stack (9 Layers) – $25
Per Piece – $1
We are conveniently located on US 1 Lorton and easy access from I-95.