RETAINING WALLS FAIRFAX VA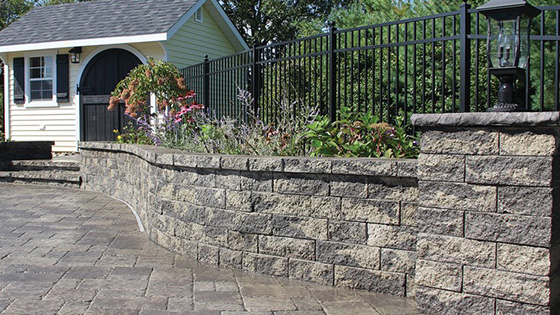 RETAINING WALLS STONE PICK UP AND DELIVERY FROM RSSY
A block retaining wall might be just what your landscape needs if you want to level a steep slope or enclose an area for a decorative garden. With a little effort, you'll have a beautifully landscaped area that's easy to maintain.
VERSA-LOK segmental retaining wall
Easy Installation
Solid Units
Great colors and textures
Stable and durable
Talk to the Retaining Wall Experts
Still have retaining wall questions or concerns? Talk with our experienced retaining wall sales persons by calling us at (703) 339-8095 or use our Email Form. Want to save some cash? Join our newsletter mailing list and you will receive monthly special offers and seasonal savings alerts.
What Our Customers Think
"We've turned to RSSY for our retaining walls for years. They have great retaining wall systems and employ a staff who knows about them. You can't go wrong with this crew!"
More About Fairfax VA Retaining Wall Systems
These systems use no mortar or rebar reinforcement system, they're more appropriate for terraces or raised beds with low walls than those with tall walls. A system of terraces creates a pleasant, stepped slope that's safer than a single, tall wall. A system of terraces also gives you many planting and landscaping opportunities and helps control erosion.
Call for our extended selections, availability, price quotes and delivery area.
About RSSY - Rock, Stone & Sand Yard
Since 1971, RSSY has earned a reputation for on-site expertise and impeccable service. With easy access, a huge inventory and hard-working staff, RSSY is your trusted source for rock, stone, sand, pavers, salt and whatever materials you need to create or manage a beautiful, functional landscape design.