OUTDOOR FIRE PITS AND FIREPLACES FAIRFAX VA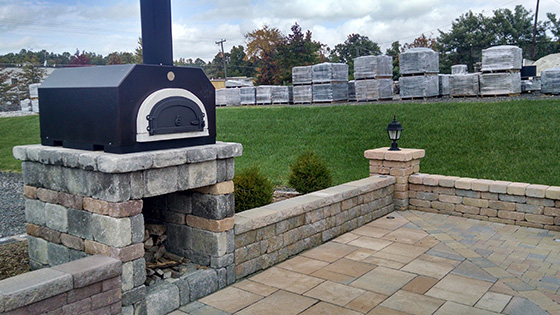 FIRE PIT & FIREPLACE PICK UP & DELIVERY FROM RSSY
A permanent outdoor fireplace can add a real hint of luxury to your backyard or deck. Common materials for freestanding or built-in outdoor fireplaces are stone, stucco, tile and brick. We have plenty of designs to choose from, and matching your backyard or deck's overall design shouldn't be a problem.
Fire Pits & Fireplaces
Outdoor Kitchens
Outdoor Countertops
Belgard Fireplace Series
Nicolock Fireplace & Grills
Outdoor Stone Fire Pits
Talk to the Natural Stone Experts
Still have fire pit and fireplace questions or concerns? Talk with our experienced fire pit and fireplace sales persons by calling us at (703) 339-8095 or use our Email Form. Want to save some cash? Join our newsletter mailing list and you will receive monthly special offers and seasonal savings alerts.
What Our Customers Think
"We love our RSSY outdoor fire pit and have used for years. They have a great selection of fire pit and fire place design and employ a staff who knows about them. You can't go wrong with this crew!"
More About Fairfax VA Outdoor Fire Pits Applications
The onset of a chilly winter weather may limit your outdoor leisure time, but you can ward off the cold with a toasty warm fire pit. Even when the sun dips below the horizon on a long summer day, you can warm up with friends and family around your outdoor fire pit. With a variety of shapes, sizes and styles, fire pits are a great entertaining piece for any backyard.
Call for our extended selections, availability, price quotes and delivery area.
About RSSY - Rock, Stone & Sand Yard
Since 1971, RSSY has earned a reputation for on-site expertise and impeccable service. With easy access, a huge inventory and hard-working staff, RSSY is your trusted source for rock, stone, sand, pavers, salt and whatever materials you need to create or manage a beautiful, functional landscape design.