Firepits & Fireplaces
"Warm Up Any Patio For Fun and Excitement This Year"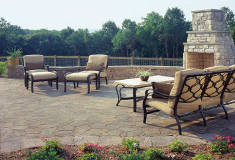 Natural stone patios are the ideal location for a traditional stone fireplace that provides a working exterior oven, and a mesmerizing landscape focal point.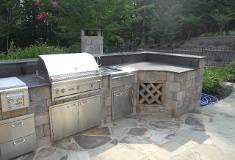 If you have yet to admire an outdoor kitchen, consider this high-end patio kitchen. Natural stone and binding mortar join forces to create a functional, beautiful outdoor space for dining and entertaining.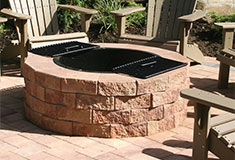 Create a stunning focal point for your outdoor space while adding extra seasons to your al fresco living. There is nothing like a live fire to make a gathering come alive. Here, top landscape designers use fire pits and outdoor fireplaces for a brilliant — and blazing — effect.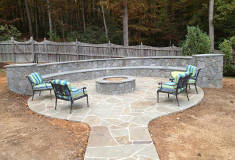 An outdoor space that incorporates a trendy portable fire pit. Store the fire pit and this extra space becomes a perfect setting for an extra patio table for entertaining.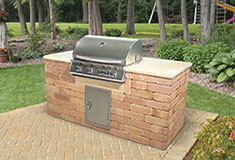 A permanent outdoor fireplace can add a real hint of luxury to your backyard or deck. Common materials for freestanding or built-in outdoor fireplaces are stone, stucco, tile and brick. We have plenty of designs to choose from, and matching your backyard or deck's overall design shouldn't be a problem. We will insure your outdoor fireplace or fire pit is located away from any potentially flammable items like trees or shrubs, and you should always use a spark guard and flame-resistant fire mat when your fireplace is in use.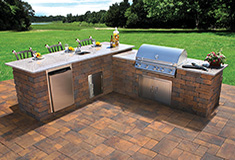 Outdoor gas fireplaces are an increasingly common feature in backyards everywhere, and with good reason. They provide a cozy and unique gathering place for friends and family, help extend the appeal of an outdoor living space well past sundown, and offer the convenience of gas as opposed to wood. With an array of options to choose from, the perfect outdoor gas fireplace for you is surely well within reach.