CUT FLAGSTONE & PATIO WALKWAYS FAIRFAX VA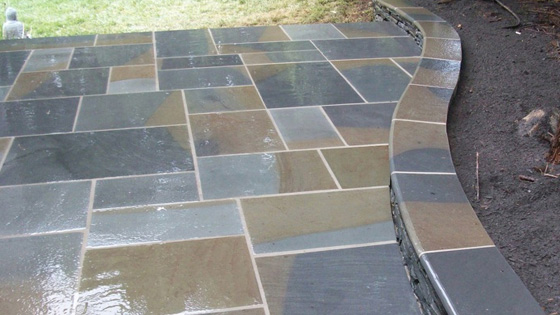 CUT FLAGSTONE PICK UP & DELIVERY FROM RSSY
Flagstone is a sedimentary rock composed of feldspar and quartz. It is layered and held together by silica. It is much admired for its color variations and multiple decorative and functional uses. Our installation experts cut the flagstone depending on the size and design in your project. We use chisels or masonry saws to cut the flagstone if the project is small or large.
Natural looking
Non-slip walking surface
Permeable surface
Durable
Can have ground cover grown in between stones
Variety of colors available
Talk to the Cut Flagstone Experts
Still have cut flagstone questions or concerns? Talk with our experienced cut flagstone installers by calling us at (703) 339-8095 or use our Email Form. Want to save some cash? Join our newsletter mailing list and you will receive monthly special offers and seasonal savings alerts.
What Our Customers Think
"We've turned to RSSY for cut flagstone for years. They have a great selection of flagstone and pavers and employ a staff who knows about them. You can't go wrong with this crew!"
More About Cut Flagstone Fairfax VA Applications
Flagstone is one of the best materials for patios primarily due to its narrow packed joints that allow water to permeate instead of running off. Flagstone patios also have a very natural, organic look due to their shape and earthy shades of browns, reds, grays and blues. The most common types of flagstone used for paving patios are sandstone, slate and limestone. Flagstone provides a durable and naturally slip-resistant patio surface that will last for years.
About RSSY - Rock, Stone & Sand Yard
Since 1971, RSSY has earned a reputation for on-site expertise and impeccable service. With easy access, a huge inventory and hard-working staff, RSSY is your trusted source for rock, stone, sand, pavers, salt and whatever materials you need to create or manage a beautiful, functional landscape design.