POLYMERIC SAND FOR SALE IN ALEXANDRIA VIRGINIA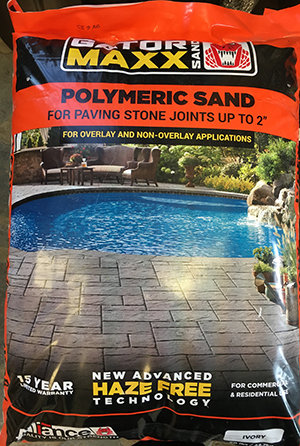 VISIT RSSY FOR A VARIETY OF SANDS FOR SALE
The process of placing polymeric sand also requires attention to detail. Pour the sand onto the pavers and sweep it into the joints. Using a broom handle or some other blunt object, tap on the pavers. This will cause the sand to consolidate. Sweep more sand into the joints until the sand is within 1/8" of the top of the paver. You don't want the sand to be even with the top of the paver, especially if the top of the paver has a bevel. If the paver is beveled the sand should be even with the bottom of the bevel. Using a small broom or brush carefully sweep all sand off the pavers. If you have access to a leaf blower, adjust to the lowest setting, hold the blower about waist high and blow excess dust from the pavers. Be careful that no one is standing immediately downwind. Once ALL dust has been removed, you are ready to spray water.
RSSY proudly serves Alexandria VA with a wide selection of sand for sale:
Polymeric Bagged Sand
Paving Stone Joints Up To 2 Inches.
Provides a solution for weed growth in joints
Easy to apply and great for driveways, walkways or patios
Resists joint washout and insect penetration
Open to foot traffic in 24 hours.
Talk to The Polymeric Sand Experts
Still have questions or concerns about our polymeric sand for sale? Talk with our experienced landscape material experts by calling us at (703) 339-8095 or use our Email Form. Want to save some cash? Join our newsletter mailing list and you will receive monthly special offers and seasonal savings alerts.
What Our Customers Think
"Finding quality bulk mulch in this area has always been a struggle. One recommendation from our neighbor and we are now hooked on RSSY. Look no further this is the place to go for all your landscape material needs."
More about Polymeric Sand for Sale
Polymeric Sand works best when it is used to fill the entire depth of the paver. In addition, it works best on joints that are between ¼ inch and 2 inches wide. Wider joints take longer to harden and may require that traffic be restricted for a longer period of time. Casual pedestrian traffic would not be an issue but high heels would wreak havoc. Some pavers are made with notches on the side. Some pavers are made with a false joint. This joint is usually about 3/8 inch deep and 3/8 inch wide and zigzags its way across the surface of the paver. These false joints can successfully be filled with sand and hold up well when done properly.
For all of your landscape, hardscape, stone, gravel, paver and raw material needs, including sand for sale, RSSY delivers exceptional service, landscape recommendations, and project management assistance for landscapers, builders, contractors and homeowners in Alexandria VA. Stop by one of our two convenient Lorton locations - at RSSY, we look forward to assisting you.
About RSSY - Rock, Stone & Sand Yard
Since 1971, RSSY has earned a reputation for on-site expertise and impeccable service. With easy access, a huge inventory and hard-working staff, RSSY is your trusted source for rock, stone, sand, pavers, salt and whatever materials you need to create or manage a beautiful, functional landscape design.